USHERING THE ROARING TIGER LUNAR YEAR

Come celebrate with us the most important occasion in the Chinese Tradition. Experience the fun and loving Thekchen Choling Singapore family spirit as you enjoy the festive season together with Singha Rinpoche and everyone! Get ready for a prosperous and meaningful New Year! Enjoy fun-filled lion dance performances and experience the splendor of spring celebrations!
LIVING A BETTER & MEANINGFUL LIFE

A new year, a new beginning. There is no better way to start a new lunar year than to give the best to ourselves and our loved ones. Come share this journey of growth and development together with us, starting from this Chinese New Year!

Celebrating Chinese New Year
Join us to celebrate Chinese New Year!
Prayers to 24 Heavenly Kings
Find out who is 24 Heavenly Kings and why we make prayers to them on the 9th day of the first lunar month!
Celebrating the birthday of Yellow Dzambala
Find out the story of Yellow Dzambala and why we celebrate the birthday of Yellow Dzambala!
Thanksgiving Day
As year of the OX draws to a close, join us in our annual Thanksgiving Day as we express gratitude to all Buddhas, Bodhisattvas and Dharma Protectors for their guidance and protection in the entire lunar year.
Let us offer our practice in the recitation of "The Names of 1000 Buddhas Sutra" (Chinese) on 10th January 2022, 8pm LIVE on Facebook!
You may offer 'Divine light of 1000 Buddhas' or 'Thanksgiving Offering' to express your heartfelt gratitude! Upon completion of the ceremony, food items will be donated to charity.

Date: 10 January 2021
Yearly Fire Puja
Don't miss this annual obstacle Cleansing Fire Puja. Unique to the Vajrayana Traditions and a very power method of purification.
Join us in prayers via Facebook LIVE.
Date: 22 January 2022
New Year's Eve Invocation Prayer
Join us in the joyous, fun and high spirits on the Eve of Chinese New Year (31 Jan 2022 10pm) from home, as we countdown to the Year of the Water Tiger, LIVE on Facebook! Wave your wealth arrows from home along with Singha Rinpoche to hook in wealth, abundance and auspiciousness into your life and your family! Stay tuned to our FB Live!

Date: 31 January 2022
CNY Greetings to Singha Rinpoche
On the 2nd day of Chinese New Year, 2nd Feb from 5pm to 7pm, we will be offering traditional Chinese New Year's Greetings (Bai nian) to our precious Guru Singha Rinpoche!
Participants are required to register online.
Date: 2 February 2022
Prayers before 24 Heavenly Kings
Let's make bountiful offerings to the 24 Heavenly Kings on the 8th day of Chinese New Year, regarded as the Eve of Lord Indra's Birthday.
Join us in the Recitation of Diamond Cutter Sutra (Chinese) 8th Feb, 8pm on Facebook Live.
Offer Now!
Date: 8 February 2022
Ren Ri, "People's Day"
The 7th day of Chinese New Year is known as 'Ren Ri', meaning 'The Birthday of All Mankind' in Chinese Folklore. As the first Dharma teaching of the year is regarded as an important affair in Tibetan Monastic tradition, what better way to celebrate "Ren Ri" than to make time and space for a Dharma Teaching?
This teaching will be available on Youtube and Facebook LIVE. *Teaching will be conducted in Mandarin.

Date: 7 February 2022 8pm
Dzambala's Birthday Eve
On 25th February, let's usher in Lord Dzambala's Birthday with Invocations Prayers by Singha Rinpoche and Sanghas at 10pm. To bring in more auspiciousness, our resident Sanghas will be performing Yellow Dzambala Puja(Tib) on 9th March at 10am. Join us Live on FB for both events!
Date: 25 February 2022
Chinese New Year Prayers
Not sure if you clash with the Grand Dukes or "Fan Taisui (犯太岁)" this year?
Special Highlights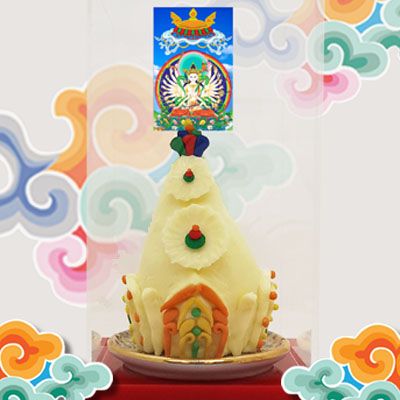 Abundance of Happiness Torma
Beautifully handcrafted by our resident Sanghas, these exquisite Deity Tormas are consecrated by Singha Rinpoche as embodiments of Lhamo Chundi, equivalent to those that are used in initiation ceremonies. The holy presence of this Deity Torma at one's home or business premise helps to avert obstacles and astrological harm, and invoke blessings of good fortune, auspiciousness and happiness, leading to enhanced well-being and successes in all aspects!
Devotees may invite the Torma personally from our temple on the first day of Chinese New Year. The optimal place to honour the Deity Torma should be the altar, followed by any clean and respectable place in the living area or office. The Deity Torma can be replaced with a new one after enshrining for one year.
Limited quantity. By pre-order only.
*This item comes with an acrylic casing.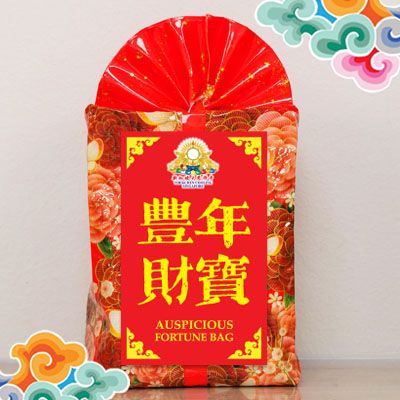 Auspicious Fortune Bag
Offering gleaming grains of rice symbolises the offering of precious gems and jewels to all Buddhas, creating the cause of prosperity and good quality of life! These Fortune Bags will be offered and blessed by Singha Rinpoche for devotees to bring back on the first day of the Chinese New Year. Acquiring a Fortune Bag symbolises the ushering in of prosperity and auspiciousness to bring about many gains, great fulfillment and a year of bumper harvest!
Wealth Arrow
Wave your wealth arrows on the eve of Chinese New Year to hook in wealth, abundance and auspiciousness into your life and your family! A Wealth Arrow placed in your residence or business premise, signifies the ushering in of good fortune and positivity. Get your wealth arrows at the temple's reception counter.