Dharma Courses
Learning with Thekchen Choling

Our courses aims to provides the knowledge and understanding that helps you discover your Buddhist journey
DHARMA FOR YOU

Our courses are thoughtfully designed to give you quality teachings,
providing you with the knowledge and understanding you need for your Buddhist journey.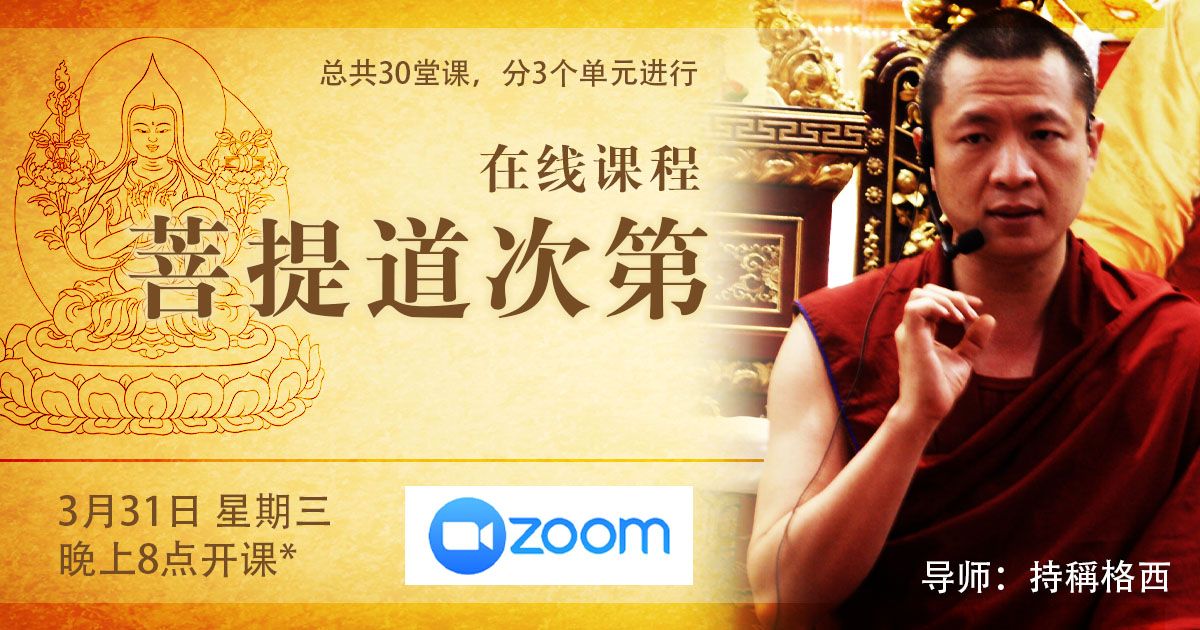 菩提道次第课程
我们很荣幸能邀请持稱格西( Geshe Kangyur )在线上开示。
菩提道次第课程将分为三个单元,每单元十堂课。
线上课程的讯息:

课程介绍:

" 菩提道次第 " 是宗喀巴大师依据阿底峡尊者所造的《菩提道灯 论》,总摄三藏十二部经的要义,循着 ⻰树、无着二大论师 的轨道,讲述 " 三士道 " 和 " 三主要道 " ,此中八万四千法蕴一切关要无不具足,经过编排整理而成的修持次第,也任何一种 根基的人,从初开始乃至证得无上菩提所必须的修法。这次所讲解的,第五世班禅洛桑耶喜所着的 " 菩提道次第速疾 道 " ,是众多道次第注释中最重要之一。

主讲者 :

在 1991 年,持稱格西十八岁到印度和尼泊尔参访学习,并于尼泊尔柯槃寺 (Kopan Monastery) 剃度,同年进入印度色拉杰学院 (Sera Jey Monastic University) 学习佛法哲学与心理学。并于十八年中学习因明,心类学和五部大论 : 现观庄严论,入中论,释量论,戒论,俱舍论。中间也到过哲蚌寺,甘 丹寺等其他寺院参访学习。 2009 年,完成所有学习并且得到格鲁派传承认可的格 ⻄学位 ( 佛学博士学位 ) ,之后也进入上密院学习密乘教法和仪轨。现在主要于香港、台湾等地教导佛学。
课程日期:
单元一:10 堂课从2021年 3月31日(星期三)开课 (单元一已圆满)
单元二:10 堂课从2021年 7月 21 日(星期三)开课*
单元三: 10 堂课从 2021 年 10 月 20 日(星期三)开课 *
时间: 8 点至 9 点半(可在 8 点上线,开始课前诵经, 8 点半准时开课)

*课程日期可能会有所更动。课程以华语授课。
报名方式:
请在此报名: www.thekchencholing.org/DEcourse


共有三个单元。每单元 10 堂课。
课程费捐赠予寺庙弘法基金:每单元 SGD60
单元二报名截止日期:20/7/2021 7pm
课程将以 Zoom 软件于线上授课。
Zoom 的课程链接将在报名后以邮件方式通知。
Ritual Series: How to use Dorje, Bell & Damaru
Have you been initiated in the Vajrayana practice and unsure how to use the ritual implements such as dorje, bell and damaru? Find out about the significance of these implements in ritual practices and how to use them. Discover more with Geshe Tenzin Nyima and Venerable Thubten Chodron, who will be sharing with us.
Date: 25 April 2021 (Sun) 2pm to 5pm
Instructors: Geshe Tenzin Nyima & Venerable Thubten Chodron
Venue: Temple Main Hall
Course Donation to Dharma Fund: $20
Limited no. of pax: 20
Register at this link: www.thekchencholing.org/DEcourse
Pre-requisite: This class is only open for Buddhists who have taken Vajrayana initiations, especially for students and disciples of Singha Rinpoche.
Register now! Closing Date: 18 April 2021 7pm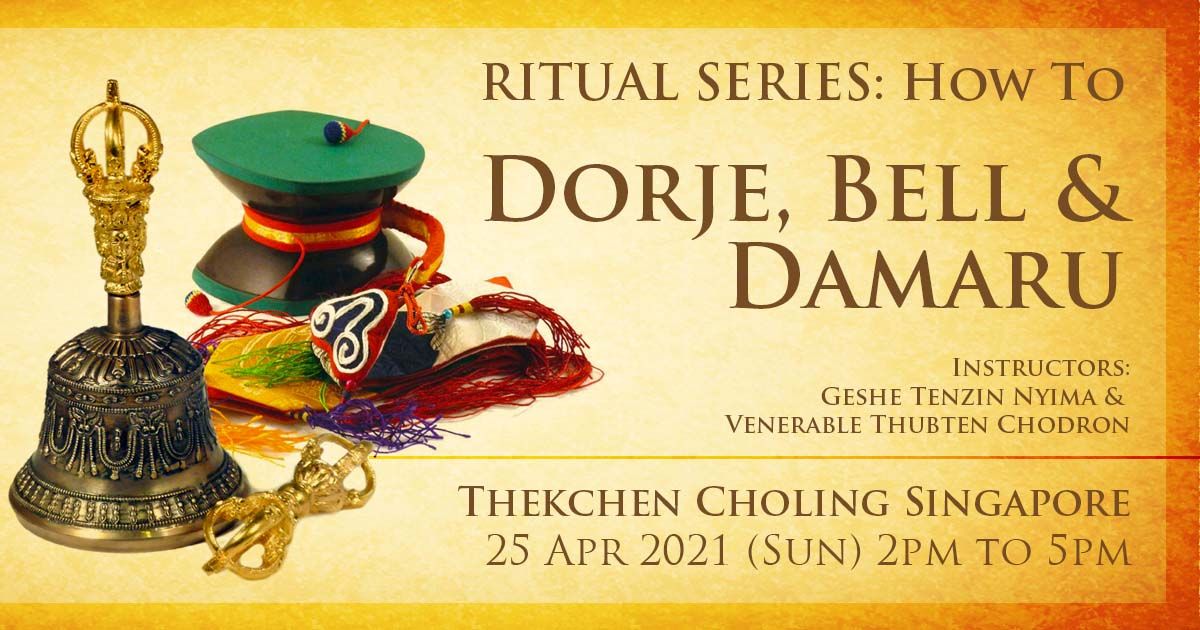 PAST COURSES FOR 2020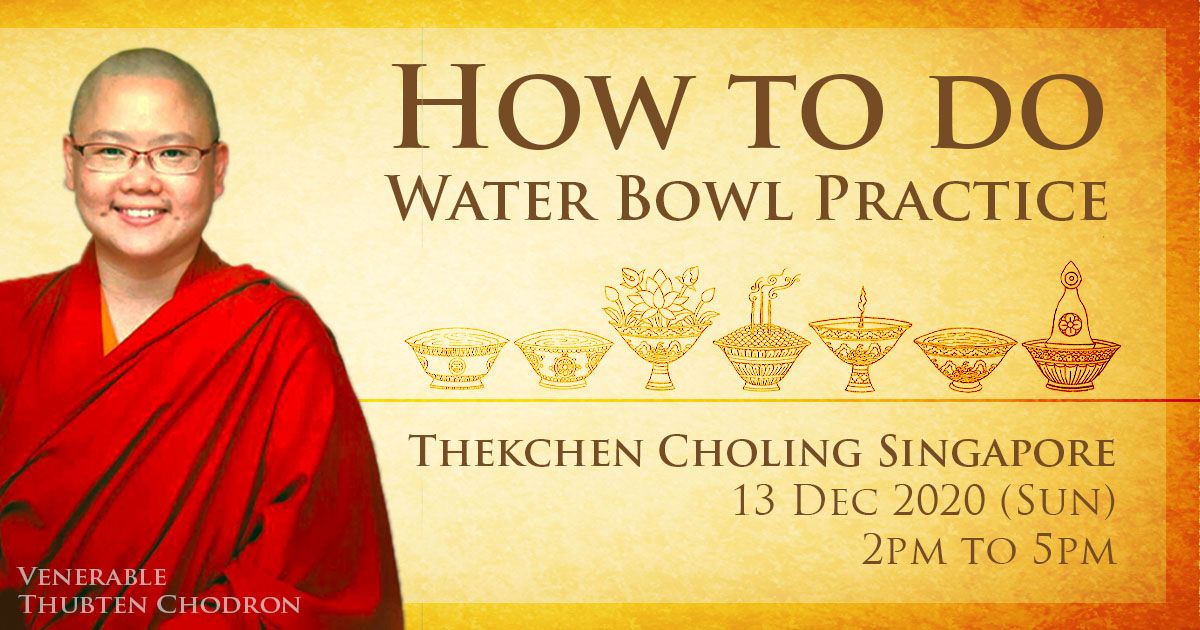 How to do Waterbowl Practice
Interested to start your daily water bowl practice? Join Ani Chodron as she share with us how you can embark on this daily practice.
13 Dec 2020 (Sun) 2pm to 5pm
Instructor: Venerable Thubten Chodron
Limited participants: 16
Course Donation: $10 per registration
Venue: Temple main hall@ 2 Beatty Lane S209945
Register Now at
www.thekchencholing.org/DEcourse
"The only true wisdom is in knowing you know nothing."
-Socrates-