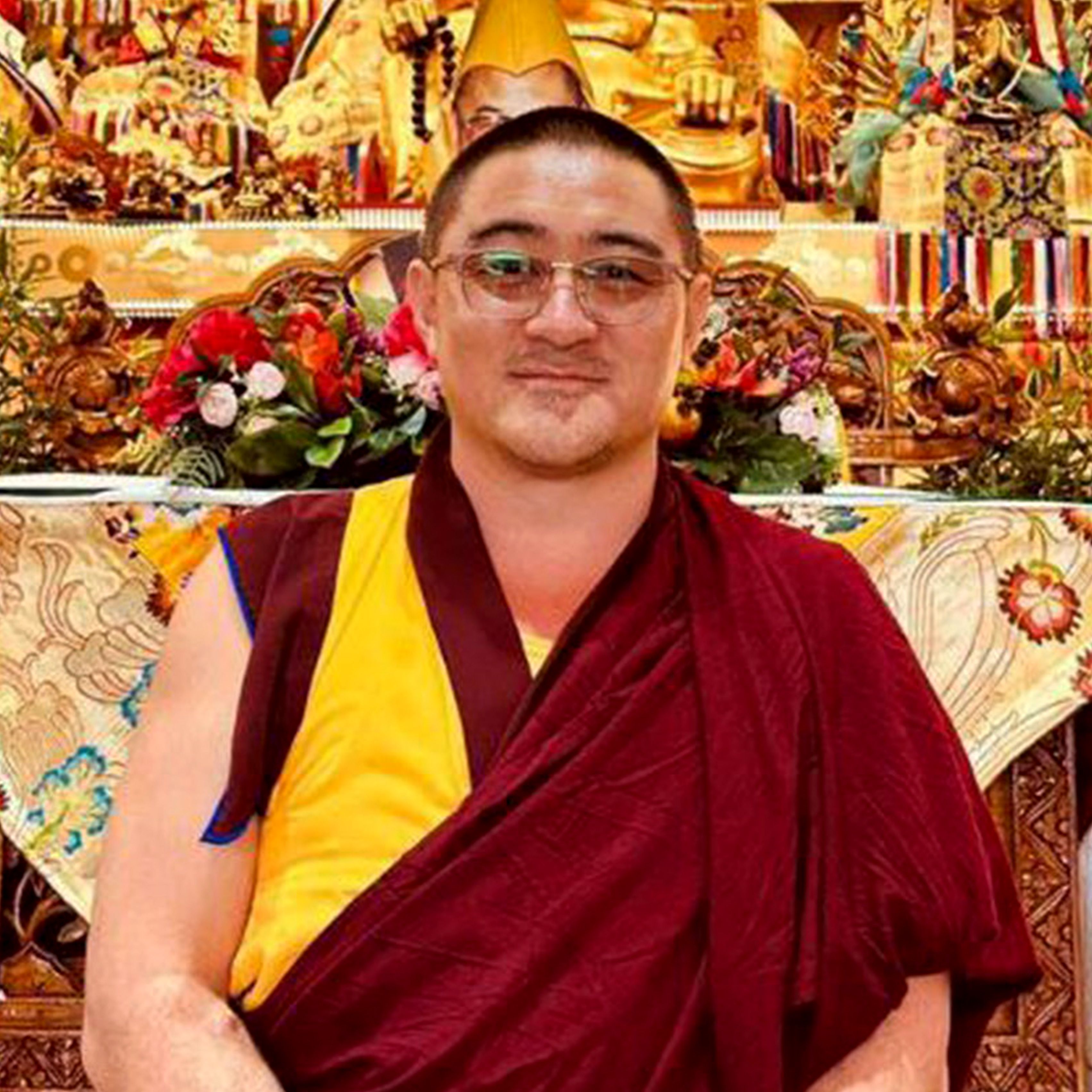 Geshe Jigme
Geshela is a highly accomplished practitioner in the Tibetan Buddhist tradition. He holds the esteemed title of Ngarampa, which is equivalent to a master's degree in tantric studies. His extensive training includes five years at Sera Monastic University and an additional twenty years at Gyume Tantric College.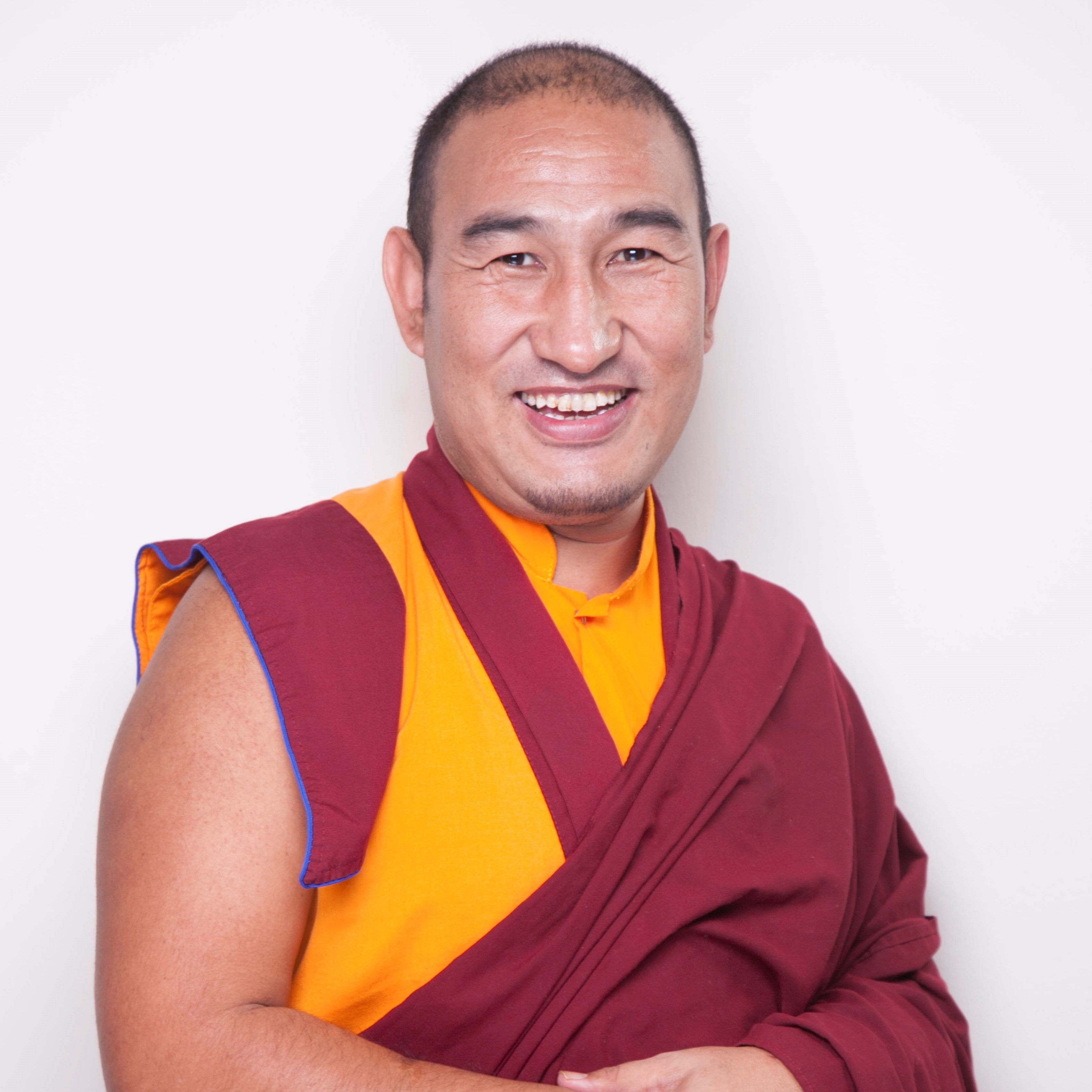 Geshe Tenzin Nyima
In 1995, after nine years at the monastery, Geshe-la and 11 others escaped from Tibet via Lhasa to Solu Khumbu, which was 1000 km away, walking over seventy days in life-threatening conditions. Geshe-la arrived in India and enrolled in Drepung Monastery in Karnataka, South India. Due to health issues caused by climate differences, Geshe-la went to Kopan Monastery in Nepal, where he then spent 14 years and attained the degree of Geshe in 2005.
During this time, Geshe-la fulfilled his aim of studying philosophy and the major texts of the Gelug school, learnt and practiced various Tantras and aspects from both the lower and upper Tantric Colleges.
In 2011, Geshe-la was appointed to the vital position of discipline master (dGe-skos, Disciplinarians) for two years at Kopan Monastery. Geshe-la had also visited Thekchen Choling (Singapore) as a monk in the early 2000s to help with numerous events. He and numerous other monks from Kopan Monastery have been instrumental in assisting Singha Rinpoche in bringing about the flourishing of Buddhadharma and the activities of Thekchen Choling (Singapore).
Lama Tenzin Phuntsok
Born in 1968 in the region of Tsum, Nepal; Lama Tenzin Phuntsok was always fascinated by temple monks in robes and he liked the idea of being a monk even as a young boy.
At 13, he requested a Kagyu Rinpoche to bring him to Kathmandu, and after arriving, he was brought to Boudha Stupa where he helped clean the area, the mani wheels and used butter lamps. The Rinpoche then brought him to Kopan Monastery in 1984. At the same time, he was ordained and given vows under a Rinpoche from India.
Lama Phuntsok then met the late Khensur Rinpoche Lama Lhundrup and immediately spent the next 16 years studying the Buddhadharma (1984-1999). In 1990, he spent another three years studying under a Kopan Tantric master.
In 1995, he visited Hong Kong and Italy to help create sand mandalas. He was also invited to Germany to perform the Lama Dance under the tutelage of the late Geshe Lama Konchog.
From 1999 to 2016, he served as a resident Sangha in Taiwan in 3 of Taiwan's FPMT centres (Jinxiu Farlin, Shakyamuni Center, Heruka Center), helping the resident Rinpoche by teaching the Tibetan Language, mudras, etc. He also completed three retreats during his stay in Taiwan.
In March 2016, Lama-la visited Thekchen Choling (Malaysia) Kota Tinggi Meditation Centre to help fill the giant Thousand-Armed Chenrezig rupa and since then, Lama Tenzin Phuntsok had been with us in Thekchen Choling (Singapore).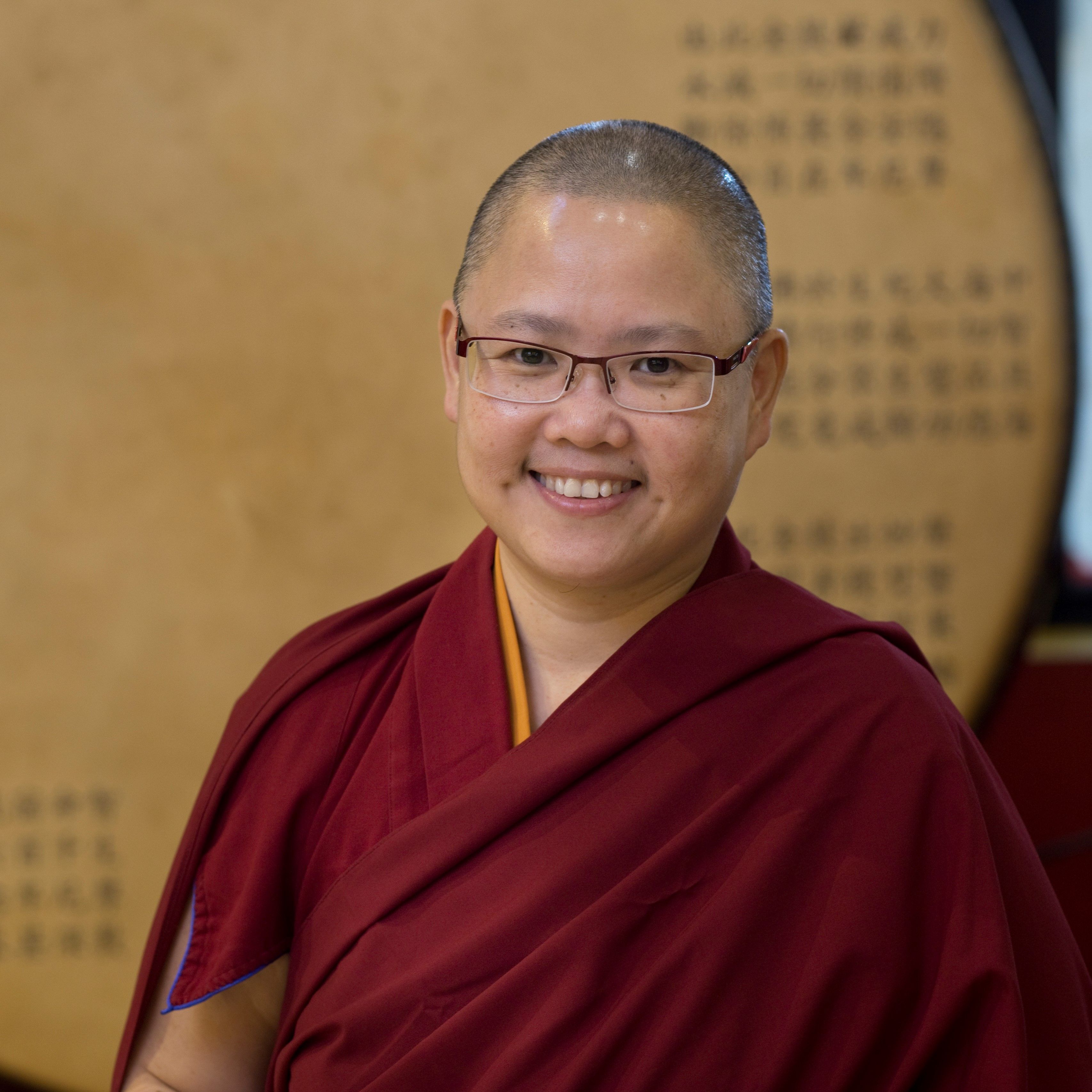 Venerable Thubten Chodron
Ani Chodron, ordained in 2004 , was one of Rinpoche's first disciples, having met him in 1994.
"By 2004, I had known Rinpoche for a decade already. I experienced his kindness and I always wanted to be of service to him. Because I was working shifts, I could not actively help Rinpoche and the temple. It was then that Rinpoche told me that if I really wanted to be of service to the Buddhadharma, I should consider becoming a nun. My parents had passed away before I met Rinpoche.
There was nothing to hold me back from making the decision to become an ordained Sangha, and so I decided to do just that. I am really grateful to Rinpoche and to Thekchen Choling. Without them, I would never be able to practise Dharma in this capacity."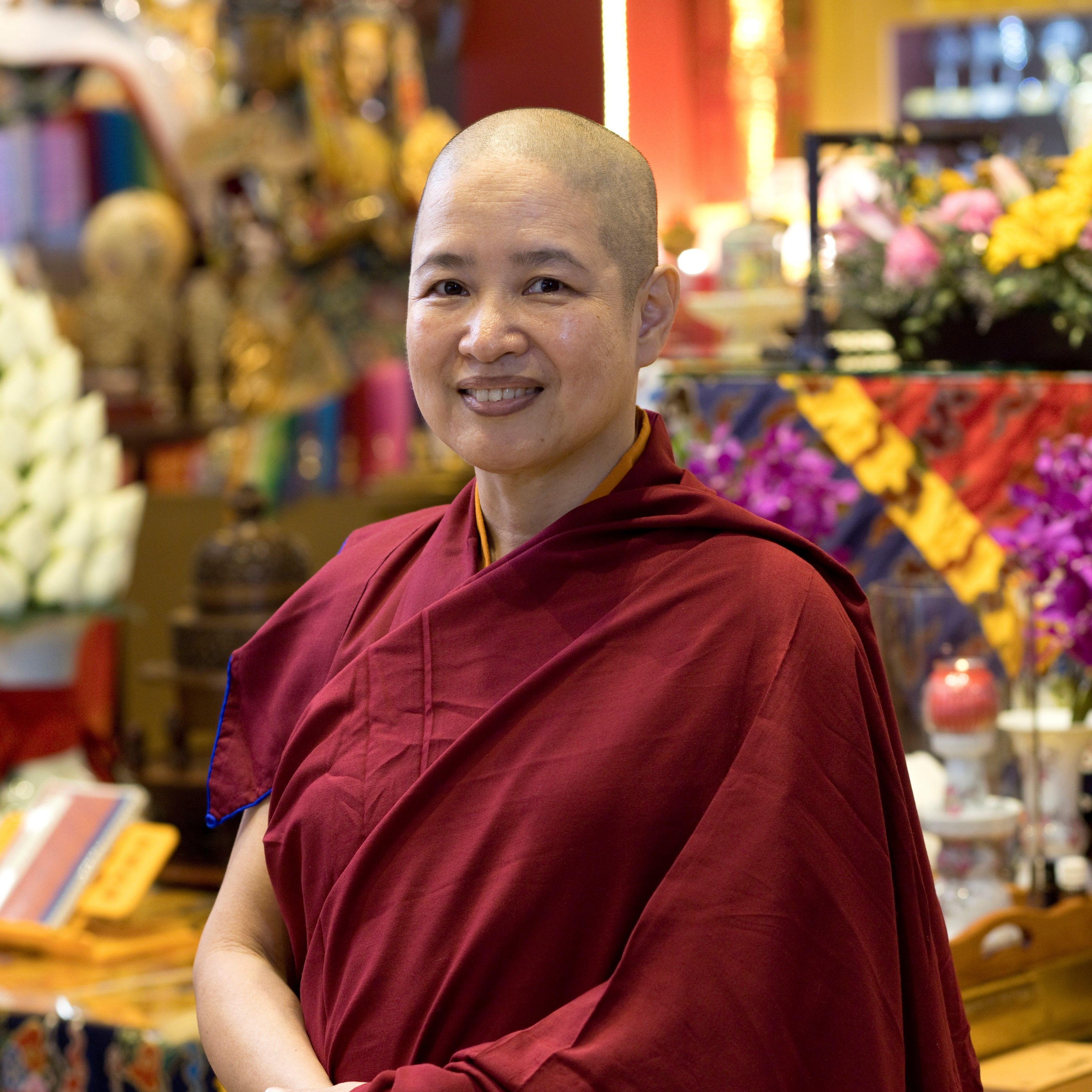 Venerable Losang Dechen
Ani Dechen was ordained in 2006.
"Since I was young, I've always been interested in religion and spiritual matters. After I came to Thekchen Choling, the urge became more pronounced. Sometime in 2006, I reflected on my life and felt that professional pursuits and worldly endeavours did not make my life more meaningful. When I consulted Rinpoche about my situation, he suggested I consider the monastic path that since I was dissatisfied with the householder's life. I thought hard about this and finally with my parents' permission, I decided to become a nun. Since then, I've noticed a gradual transformation – I think and react differently from before."
Venerable Losang Chokyi
Ani Chokyi joined Thekchen Choling in 2006 and was immediately attracted to the place, its Rinpoche and the disciples. What was particularly special to her was that Rinpoche was giving regular Dharma teachings in Mandarin. Back then, she was not as well-versed in English as in Chinese. Thus, the teachings were a blessing for her.
"Rinpoche's teachings really opened my heart. It is hard to find a Rinpoche who can teach in Chinese and in a way that is so clear and direct." Ani Chokyi was ordained in 2007.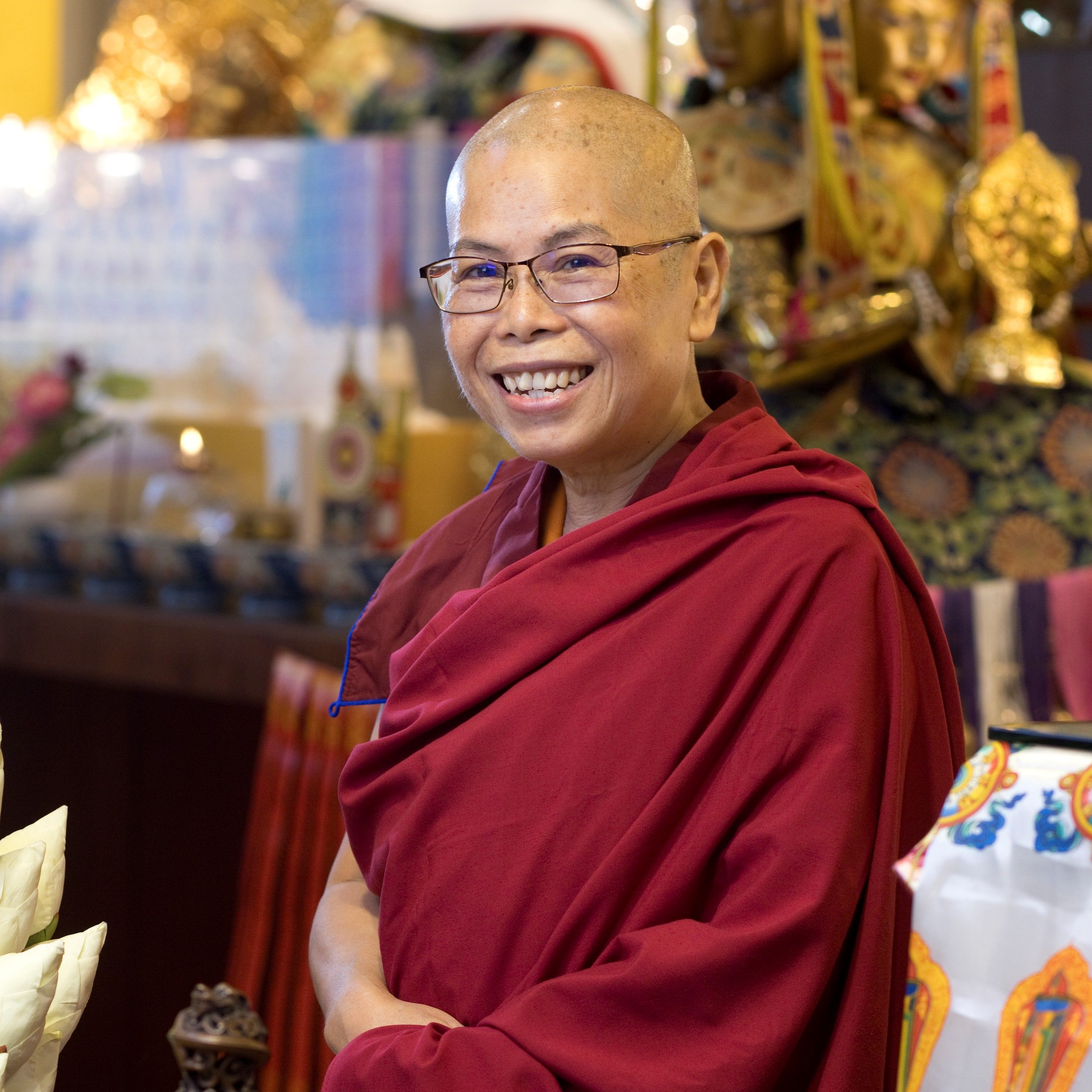 Venerable Choying Kunsang
As a child, Ani Kunsang was exposed to both Buddhism and Taoism, but unfortunately, her parents were unable to answer her questions regarding Buddhism. In 2004, she discovered Thekchen Choling and Singha Rinpoche's teachings, and that was the moment where many of her questions were finally answered.
Finding the right teacher who teaches Dharma in English then was really rare. In the earlier years, Ani Kunsang was advised on two occasions to take ordination vows by both Singha Rinpoche and the late Khensur Rinpoche Lama Lhundrup Rigsel. She was unable to do so as she had to tend to her aged parents. After the passing of her parents, Ani Kunsang made the decision, and took her ordination vows on 21 February 2017.